Description
This portable whiteboard made by digital nomads is great for working remotely and not having to bother with paper
14.6m x 23cm (folded)  -> 44cm x 23cm (opened)
Erasable
Light weight
3 foldable panels
Always have somewhere to write down your thoughts.
We don't always need to write down things that will never get erased. In fact often we just need to take some quick notes for later. This is where the Portable Whiteboard comes into action. Thin, lite and easy to transport, you can carry it with you anywhere you go.
Once you are done with your notes, just wipe them away.
Comes with thin tip erasable market.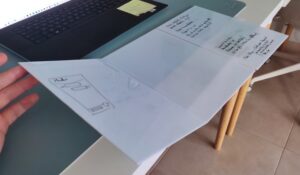 If you wish to keep some of your notes, we recommend using one of the following apps:
CamScanner: for Android, for iOS
Microsoft Lens: for Android, for iOS